Welcome to Andhra Jyothy Newspaper Ad Booking Portal. Use this portal to book any Newspaper Ad instantly online for Matrimonial, Property, Recruitment, Public Notice at the lowest rates. Pay via Credit Cards, Debit Cards, UPI, Net Banking or Cheque.
Worried about getting contacts, rates, deadlines and manual booking procedures for your Andhra Jyothy classified ads? Your search ends here- Now you can book newspaper classified text and display ads via releaseMyAd - India's largest newspaper ad booking portal. Just 3 simple steps and your ad is booked for the scheduled date.You can avail the best rates and discount packages for your Andhra Jyothy classified ads only at releaseMyAd. Get started !
---
Ad Formats In Andhra Jyothy :
Ad Type
---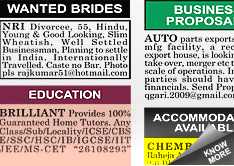 There are two types of classified ad such as Classified Text Ad and Classified Display Ad. Classified Text Ad is the most cost-effective forms of advertising in any Newspaper. The Ads appear in the classified section in the standard running text format. Rate is charged per Line/Word/Character basis. Enhancements like tick mark, colour, bold font, border lead to extra charges. Classified Display Ad is more visually appealing than classified text ads. Here one can add customized font, colour, logo or image to make the ad visually more effective for the target readers. These ads are charged on the basis of per sq.
Display advertisements are the most extravagant form of newspaper advertising. They can be published on any page and can occupy any amount of space in a specific newspaper page.
---
Andhra Jyothy Ad Booking Centers :
LOCATIONS
---
Why advertise in Andhra Jyothy Newspaper ?
---
WHY ADVERTISE IN
Andhra Jyothy

NEWSPAPER?
---
Andhra Jyothi is circulated in almost all the regions of the southern part of India, thereby reaching out to the entire Telugu and even Kannada and Tamil speaking population of India
Since it is a regional daily, the advertising rates for this specific newspaper are highly competitive
With a circulation of 8.25 lakh copies every day across several districts of Andhra Pradesh, Tamil Nadu and even Karnataka, Andhra Jyothi ensures extensive reach across a variety of audiences
Andhra Jyothi, also referred to as Andhra Jyoti, is a highly popular Telugu daily circulated across the Southern states of India. Established in the year 1945, this Telegu daily is widely read not across the different Telegu speaking people but also among Kannada and Tamil speaking people.
Named after the state, which majorly comprises of Telegu speaking inhabitants, the Andhra Jyothicovers current affairs, daily news, updates on political events and entertainment daily. The cities covered by Andhra Jyoti are Anantapur, Tirupati, Kadapah, Kurnool, Warangal, Nalgonda, Mahabubnagar, Hyderabad, Karimnagar, Khammam, Nizamabad, Vijayawada, Guntur, Nellore, Ongole, Vizianagaram, Kakinada, Srikakulam, Visakhapatnam City, Bangalore, Chennai, Vizag, Tanuku and Adilabad.
You can choose to advertise in different ad formats in Andhra Jyothi including Text ads, Classified Display and Display ads under different ad categories. These categories cover Matrimonial, Recruitment, Education, Public Notice and Tender ads, Business and even Obituary Ads. Advertisers are provided with the advantage of availing attractive discounts and packages while getting their advert released through Andhra Jyothi's authorized online newspaper ads booking agent-releaseMyAd.
View Andhra Jyothy Ad Rates for :
ADVERTISEMENT RATE
---
---
How To Book An Ad Andhra Jyothy Newspaper?
---
HOW TO BOOK AD IN
Andhra Jyothy

NEWSPAPER?
---
How to Book an Ad for release in Andhra Jyothi online in 3 easy steps?
Mention the preferred Ad Type as Classified Text, Display Classified or Display, then choose the ad category from matrimonial, recruitment, business, announcement or any other section along with specifying the location/edition
Formulate your ad or design it with the help of ad enhancements or customizable templates and preview it with the exclusive Live Preview Ad Feature on our portal
To complete the booking, simply confirm the release dates of your ad & proceed to make the payment through the convenient online or offline modes to get an instant confirmation
The online payment options include Credit/ Debit Card and Net banking, while the offline modes range from Demand Drafts, Cheques and NEFT (Online Cash Transfer) to Cash Collection from homes and offices.
On the receipt of your ad payment, an invoice with all your ad booking and payment details is automatically generated and sent on your email id, as provided by you on our website and your ad Andhra Jyoti is confirmed for release as per the preferred date(s) once approved by the editorial team of Andhra Jyoti.
We at releaseMyAd provide you with an easy and user-friendly to review ad rates, circulation details, combo packages and book ads online for Andhra Jyothi instantly!
You can book your Andhra Jyothy Classified Display, Text Classified and Display ads, at the lowest rates through releaseMyAd at no extra cost!!
We have been recognized and accredited by the Indian Newspaper Society (I.N.S) - the major and primary governing body for all media publications, which provides us with the authority to release display and classified ads through our website across all newspapers in India.
You can advertise in the Matrimonial, Property, Obituary, and Recruitment, Education or any other classified or display ad section of Andhra Jyothi in the following ad formats:
Classified Text Ads: Text advertisements are the most basic and simplest form of newspaper classified ads. They are also frequently addressed as run-on line ads which can be highlighted with the help of ad enhancements like ticks, screen borders, background colour highlights and more. The cost of these ads depend on the number of lines/characters/ words included in the ad matter.
Classified Display Ads: Classified Display ads, also known as column ads are a tad bit more expensive than Text ads. This ad type can be customized by using images and logos if any and different font styles and advertisers can even compare ad sizes. These ads can be released in coloured or Black and White format with the assistance of customizable templates, while ads can also be uploaded as per your preference.
Display Ads: Display ads are the most expensive form of newspaper advertising. Display adverts provide loads of scope for creativity from the advertiser's end. Expert ad designers can upload the design of their own advertisement in PDF/ JPEG/ EPS format and simply mentioned the requirements to get their ads published.
For further details or queries about classified or display ad booking in Andhra Jyoti, you can visit the Frequently Asked Questions section or Question & Answer Forum.
---
Andhra Jyothy Advertisement News
---
In the News
---